Hope you don't mind me jumping to let another new story. But I found a file of images from a program I no longer have. Many of the characters dressed in different colored cheer uniforms and boom I suddenly had an idea. Well, I hope you enjoy.
HH1
Chapter 1 Cheers to Wares
M/Multiple f Sexual touching
m,m/f Forced Submissive Sex
B/f vore *2
Kira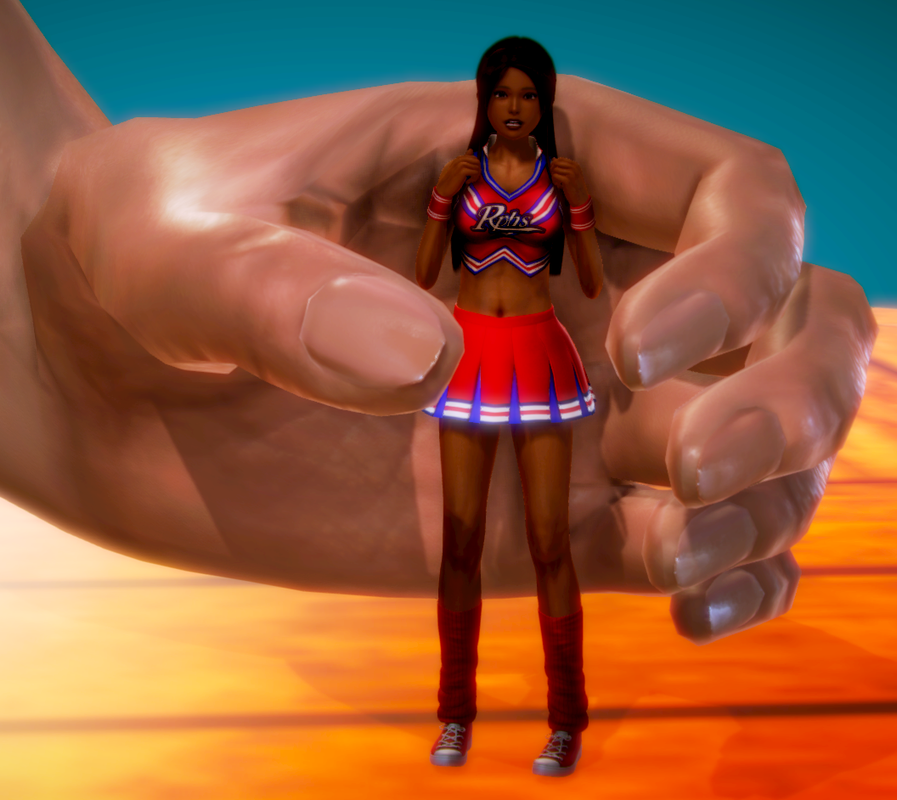 Kira was delighted chatting with Mandy through the roar of the other girls on the bus. They were on their way for a weekend competition. The twenty nine members of the JV squad with nine of the lady chaperones. Every girl was so excited for this weekend. If they aced this challenge they would be on to state.
Ahead of them were all twenty eight the Varsity team and eight other chaperones. And they followed the bus with the guys from both teams and the men chaperones. This was going to be the best Kira thought.
Kira wondered what dealers would be at the arena as Mandy talked about the cute guy she had met at the mall last weekend. Music filled the spaces between the rumble of background conversations. Life couldn't get better than this.
Suddenly the air exploded by Mrs. Stain screaming, "Where did the other bus go?"
Kira strained to look out the front window around the looking girls before her. Kira didn't know what the team mom was talking about, there was a bus far up the highway from them. But then she only saw one.
The woman's daughter Vivian suddenly explained what was the cause of the panic, "It just disappeared. A burst of reddish light and it just disappeared."
Kira was wondering if the mother and daughter were just trying to prank them. As she turned her head to see if maybe the other bus was just beside them when a reddish haze coated over the window.
Kira jerked hard in her seat as the bus braked hard. The wheels screamed as they bounced along the road attempting to stop. Startled screams of women and girls filled the yellow metal tube.
Kira looked about to see if anyone was hurt. Startled and dazed but no one looked to be injured. Then she saw they were no longer on the highway. A bright light of some kind shined off a black floor of some kind. The light also shimmered on giant thick glass walls a short walk away. Right before them was the varsity team's bus. Panicked faces looked about from their windows. Their door was open and a couple chaperones were cautiously exploring just outside their bus.
Miss. Pierrot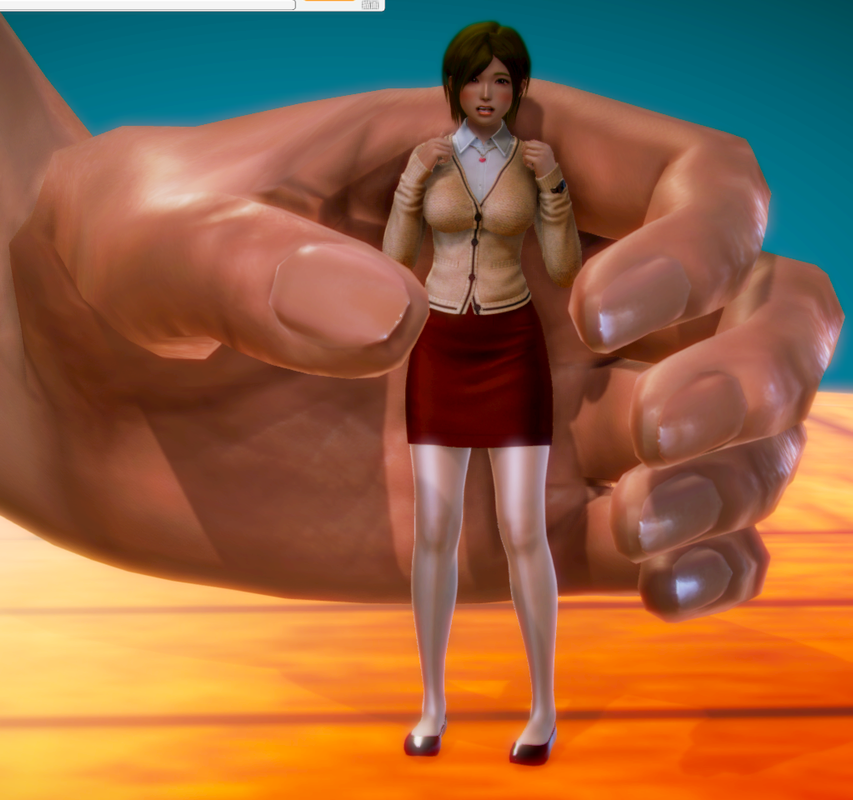 Kira watched Miss. Pierrot caught her breath at the sight of their bus suddenly arriving wherever here was. She said something to the other brave explorers then started towards Kira's bus. She didn't make it, however. A couple steps and then a giant hand dropped over her and clawed fingers wrapped her body and lifted her up towards the glaring light.
Many of the other girls leaped to the windows looking up trying to see what happened to the young teacher. Then the bright light dimmed and there stood a strange giant man. His thick rimmed glasses framed dark eyes. He was clearly aware of his balding head as he had his hair trimmed nearly to his skin. His jaw line was marked with a thin strip of hair that attached into a goatee beard. Center of that beard was a gleeful smile. In one of his hands was Miss. Pierrot with her arms forcefully pulled back. The other massive hand was fondling her pushed out breasts.
Penny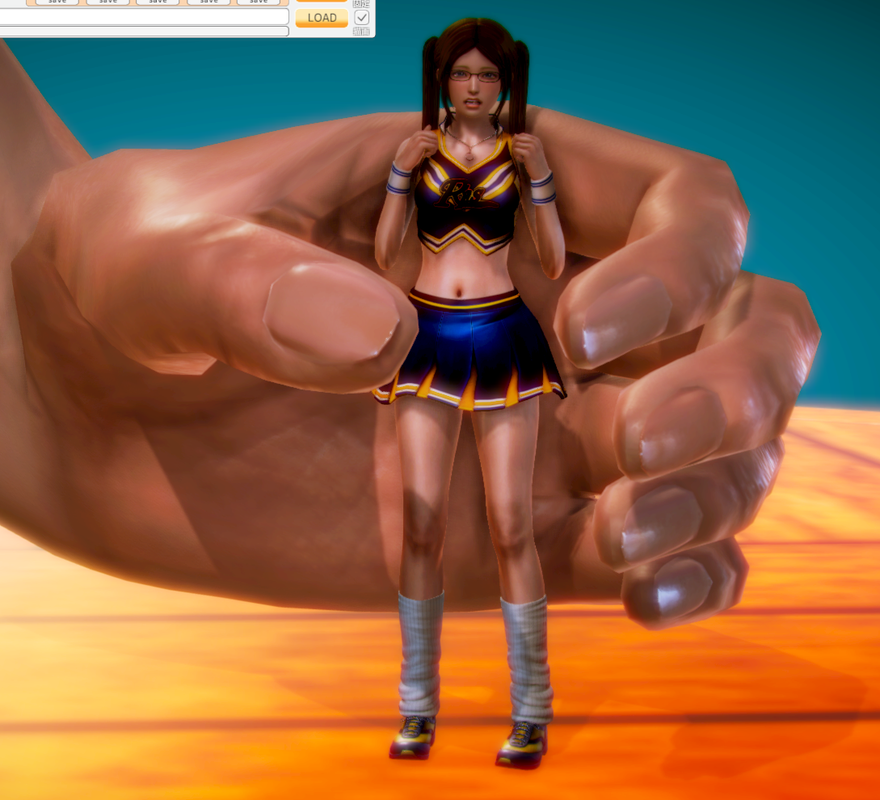 Suddenly Kira seen Mrs. Gates walking confidently from the varsity team bus towards the glass pulling her daughter Penny, one of the varsity team's assistant captains, behind her. Once she reached the clear wall the chubby cheer mom yelled up in a happy tone, "See, just like we told you. More than the nickel and dime catches you've been living off. Now turn Penny and I back."
The strange giant lowered Miss. Pierrot back into the glass cage. Released she staggered to get her balance. A distant thunder like rumble carried his words, "There sure is all kinds of pretty products to offer my clients. As for changing you back, well plans have changed." The hand that was once holding the young teacher now moved terrifyingly fast and scooped Penny from her mother's side.
Mrs. Gates screamed up at the giant in a very Karen-like tone, "What? No you promised. I place the tracking devices on the buses and we'd get a percentage of the sales of these girls."
Kira watched as the hand holding Penny coiled tight, restraining the older teen's limbs. The Giant looked amused at Mrs. Gates' demands. As he carefully plucked the shoes off Penny's feet and let them fall into the tank he taunted the rotund woman, "No I promised you husband a percentage. Then while you and this lovely product was on your way to the buses we renegotiated."
His massive hand opened slightly and his other hand reached up and began rolling Penny's tight yoga pants down her long toned legs. "Seems for the cost of just one of the girls I got to keep the two of you. That sick bastard wanted his own daughter. But I talked him out of that incest idea. Though for a lower percentage he can now bid for products so he might have some daddy daughter time after all."
He let fall Penny's pants, panties, and socks. All seemingly taken off as he peeled the stretchy pants off the pig tailed brunette. Mrs. Gates whimpered loudly, "No, no stop that. Let me talk to Derrick, I need to talk to Derrick!"
The Giant was very carefully lifting Penny's glasses off her face as he boomed in a mocking tone, "Product shouldn't talk unless I or their owners give them permission." He placed the glasses before the tank like a warning to all the girls.
The towering man was now going after Penny's tank top. The senior looked too terrified to resist. Her mother however was bolder, "You can't sell me! Do you know who I am."
The giant reached down and literally poked the taken tank top into the chubby woman's chest. Knocking her onto her ass. As he flipped the woman's daughter in his palm and started after her last piece of clothing. He taunted the knocked over woman, "You are right. You will be hard to sell all bubblery like that. But I have clients that like a little meat on their tinies bones. So you will get sold or at least dealt with." Then he dropped Penny's bra onto Mrs. Gates' head as he twisted the knife, "And yes I know who you were. Your Product Gates 2, mine to sell."
He held Penny at his eye level as he spoke out, "As for this nubile new product." But it wasn't the hand holding Penny Kira was watching. No, it was the other one. The hand undoing his belt. The crowd in the bus reacted, some gasped, others screeked. But all knew what that large mass was in his white underwear was. Rumbling worried sounds began around and from Kira as they all watched Penny be lowered. The Elastic barrier of his tight underwear opened and the pig tailed older teen screamed in terror. She vanished behind the white material. Then his hand came out empty and the band was closed. The thick mass now held Penny's pinned fit body outlined in the white material. The Giant fastened the top of his pants and did up his fly. As he buckled his belt he shivered and happily hummed, "Oh, I can advertise her as timid but attentive."
Mrs. Gates' looked to be trying to speak. Kira could clearly see her mouth moving. The giant plucked her from the tank noting, "Better cage you separately. Once they were alone with you, knowing you sold them to me. Well, I would be down a product huh."
The giant left Kira's sight. The chaperones from the first bus that had started exploring ran back into the shelter of the metal vehicle. Many phones lit up as chaperones and team members held hope to call for help. Then Kira watched as those phones were lifted and waved about looking for a usable signal. That failing, the girls in her bus began begging their own chaperones for answers. For protection. For promises not to be placed in the giant's underwear and wrapped to his colossal penis. And the chaperones had no way to answer as they too wanted those things.
Kira saw that the giant was coming back. From how he walked Penny was still trapped in that fabric chamber. From his happy expression she was worshiping at the altar of his pleasure. Kira couldn't blame her. He could easily crush one of them in his hand. To make him happy was the only safe route.
He looked down at them in their bright yellow shelters. "OK products, out of the buses. Time to examine what I caught this time."
No one left the buses. All trembled hoping the metal with its small openings would keep those massive hands from coiling around them. Kira, and likely others, knew that they couldn't stay in the buses. Food and other needs would make them need to leave. And the only source for that had Penny Gates in his underwear. Yet the idea of volunteering into his grip was impossible to accept for any of them.
He looked to be enjoying their fear of him. A big smile formed across that billboard sized face. His tone was gleeful as he taunted, "If you don't come out I'll have to open them up and get you." Still no one exited the buses.
Kira watched his arm reach down and felt the ground rumble softly. From the looks of it he had a drawer there that he was getting something from. She felt the ground tremble again and a clunk of the drawer closing tight. Then his hand lifted and she and the girls started at the shiny bladed object.
To Kira it was clear it was a normal human tool. Yet at her new size it was like some horrible torture device or in his massive hand, a vicious tiny axe. A large round blade on one side with a straight poking blade pointing from the other side. Kira just couldn't figure out what it could be for.
Then the hand holding it rose up and shot down atop of the other bus. The screams of terror from the other bus chilled her to her bones. His hand grabbed the front of that bus. The hand holding the scary bladed thing shifted and started rocking up and down. The inhabitants of that bus just kept screaming. Then Kira suddenly realized it was simply just a strange can opener. Each pump of the colossus' arm cut open the other bus's roof bit by bit.
Kira watched him cut along the varsity team's bus roof. Then he lifted the device and placed it on the other side of the holding glass. He reached down and peeled the metal roof open. Then his hand reached into the bus and lifted two girls out and placed them before him in the tank like a tribute to himself. He reached in again and scooped a couple more girls out like it was a bowl of popcorn. There was nowhere for the girls in the bus to hide from the giant. And with the roof off there was no point in running back in to hide.
He was clearly targeting the cheer members first. Snaring the odd chaperone with a girl. Soon the giant had even the lady watchers piled with the varsity team. Then he reached in one last time and pulled the driver out. He grabbed a container and placed the man segregated from the teens and women.
He leaned down and examined the cowering varsity team. He was clearly happy with that half of his catch as he smiled broadly. Kira could reason he was imaging them naked and helpless in his hands or other places. Then his head turned and Kira felt like he was directly looking at her. His thundering chuckle was followed by him asking cruelly, "Do I have to cut you products out to or are you smarter than that?"
Kira looked at the other girls on the bus and faces were looking back at her and others looking for a miracle answer to what to do. Then Jeania whimpered, "What difference does it make? If we go out he might be nicer to us." Then she looked at the driver to open the door. He looked at Miss. Baker and she just shrugged. He opened the door and Kira filed out with all the others.
He smiled at them as they filtered out of the bus. He waved them over to the varsity team and their chaperones. Then his hand shot over them and they all screamed. He nabbed their bus driver and placed him in the plastic container. Then his leering eyes scanned each of them. Admiring their every curve and inch of skin.
Several of them wore jeans and tees. But many, including Kira, were wearing more revealing clothes. She was wearing sports shorts and a tank top. But there was a variety of yoga pants and several skirts. He hummed in a disturbingly happy way. He liked their different limited and displaying outfits.
Then he spoke at them, "This is fairly simple. I am going to sell most of you products. Many a supporter bidding on you want pretty pets. Mostly to enjoy like I'm savoring Product Gates in my pants. Some even like to pamper or spoil their little erotic pets. Now, a limited few are a little more cruel."
He paused. Allowing their minds to come up with what he might mean by a little more cruel. Kira suddenly was imagining herself on a plate restrained and reclined on a bed of rice. Some sort of sauce covering her body and a shadowed giant holding a fork and knife over her.
"Now before I can sell you I will need to get a feel for what types of pets you'll be. The high end products over the cheaper options. So I'll be picking through you all and sampling a good bunch of you. Others, like you chubby mothers and fugly girls will go on the auction blocks right away to wet my supporters' interests." He happily explained.
He pulled out another plastic tub. He openly laughed as he grabbed the chaperones and girls he didn't personally find appealing. Then he grabbed another tub and started nabbing the remaining chaperones. Followed by the varsity team then Kira and her team. Then he lifted the chaperones tub and held it over the one Kira was in. Everyone on the JV team including Kira screamed as he slowly lowered it down towards them. It turned out these tubs were designed to stack and just trapped them under the chaperones. The varsity squad were lifted and a thump told Kira they were on top of the chaperones.
He tipped the container holding the drivers and dumped them back out. As they staggered to their feet he ordered, "Go into the first bus and starting at the back bring out every bag, purse, or whatever and line them up beside it. Once you two have the first bus empty, start on the second."
The two drivers started slowly towards the bus with the roof peeled open. They kept looking back at the giant like they expected him to squish them at any moment. Then the giant's voice boomed suddenly, "Hurry up. Work faster because your life depends on it." And the two men bolted as fast as their out of shape middle aged bodies would carry them.
Kira watched as the giant then got up and went somewhere. The men worked with haste even without his direct presence. The giant returned with a table near the tank they were caught in. The drivers finished the first bus and were starting on the second.
Kira watched as he reached into the tub at the top. Suddenly he was placing Jenna Murphy by the line of bags. The varsity Cheer Captain and frankly cheer Queen of the school now cowered under the giant's view. She was trembling so hard her purple dyed pigtails waved about and even her short little light skirt bounced. She yelped like a wounded dog as the giant requested, "Last name product?"
"Mur, mur, Murphy." The usually arrogant and egotistical head cheerleader responded.
"Product Murphy, get you bags." Was his response.
"Yes sir." she whimpered and rushed over with a girlishly run.
Once she had her bags he scooped her up and placed her back in the top tub with the command, "Hang on to your bags so I know I grabbed you already." If Jenna replied Kira didn't hear it.
Other girls from the varsity team followed. Donna, Tabitha, Maria. All the same treatment, last name, go grab your bags, now hang on to them. Each time he typed something onto his tablet. It was more than just their last names. Kira guessed it was a basic description, a way to keep track of what he saw as sale items.
Then he dumped out Christy Albright, Jenna's other assistant captain. "Last name product?" was demanded as usual.
"Albright." She nervously replied.
A new question came from the giant, "What is your first name?"
Christy looked confused. "Christine." She answered.
"Do you go by Christy?" the giant inquired.
"Yes sir." the usually snide blonde whimpered.
"Get your bags." The giant commanded.
She grabbed her bags and walked back over. The giant's hand eclipsed the active blonde and placed her in her own little tub. The giant pulled out his phone and made a call. Nearly all the girls on the JV team pulled out their cell phones hoping if he had service they would too. But it was not to be.
"Hello Derrick, how are you?" the giant asked whoever he called.
"Yeah, she was indigent like you said she would be. Her, do you really want me to answer that?" he continued his side of the conversation.
The giant laughed then asked, "You home?" A second later he added, "I have the package part of your payment all ready to be delivered. Real lovely little thing I can see why you wanted it." A moment after that he advised, "I don't need to know that, I can imagine all the games you have planned for the product." He paused then answered, "Yes, yes, I'll let you know when she's on auction. Though she is lovely and frankly, a smart product. She'll go for top dollar I just know it."
"OK, it'll be on your back porch in about five minutes. Talk to you again soon." The giant added then hung up. He walked out of sight, taking the small tub with Christy in it as he did. He returned without Christy and started again with the name, grab bags, hold bags routine.
He filled through the senior team and started on the cheer mothers and couches. Same pattern. Vice Principal Mitten looked at him and requested, "And what if I don't tell you?"
His hand encased her and flexed. Ms. Mitten groined in pain as he spoke over her sounds of major discomfort, "You want to know what I do to uncooperative or unselling product, fine."
She was placed back in the chaperone tub and then he lifted both tubs and placed them on top of the varsity team's container. He lifted all three tubs and all inhabitants with ease. They were taken into another room. Past what looked like the animal cages from a lab. Instead of bars or metal doors they were gated by a clear plastic or glass door. Inside looked like a prison cell with two separate beds. Then they were set on a desk beside a tank with a bright light and a large branch over a big stone and some sand.
Gabby screeched and Kira turned to see what had caused her busty friend to react so. There in the tank on the desk, crawling over the log like a monster from some old B horror movie was some sort of lizard. Its comparative size made it terrifying. It looked to be looking at them and opened its mouth slightly.
"Sorry Bruce, these lovelies are products, not good boy snacks. But they want to see what happens to those that cause me annoyance." The giant told the dragon.
He pulled open a deep drawer and pulled out a naked Caucasian woman. She was skinny as a rail with dirty blonde hair that was all messy and her face wasn't inviting. Her voice was heavily Eastern European accented as she pleaded, "Please no, I sell this time. Please no."
"Sush, I never thought you would sell. Bruce likes live treats. But if I can make a buck or two I can always get more treats for him later." The giant mockingly informed the squirming pinkish thing in his fingers.
He dropped the woman into the tank at a corner. She screamed and started to run, to where Kira couldn't tell. Maybe the cruel giant had a safe spot in that tank that if they made it to, they got to live.
If that was the case it didn't matter for this woman. Her outburst caught the ears of the dragon she was trapped with. It tilted its head and skittered over open mouthed. It looked horribly gleeful to have an inches tall naked woman trapped in its tank. She was just panic scaling the large chunk of wood when the beast stopped and turned its head. A pink bolt shot from its mouth and recoiled with the woman's back stuck to the tongue's end.
The woman's torso and head was in the monster's mouth while her limbs dangled past its lips. She was frantically squirming. Arms and legs waving and kicking hard attempting to escape the mouth holding her. The Lizard snapped its jaw and only the legs and forearms were out. She was still struggling, but much of her fight was snapped out of her limbs. Another snap and only her calves dangled in view. She was still alive as they weakly kicked. That mattered little to the lizard as it tilted its head slightly up. A third snap and a clear swallow made those calves disappear.
It was the most disturbing sight Kira had ever seen. Worse, that woman was still alive when she was swallowed. Taken into the dark wet and down into a pocket of acid and painful death. None of them could escape that thing if placed in with it. It was just too large and fast.
The giant smiled happily, "Good treat Bruce? Good treat?" he gleefully asked the lizard. And it almost looked like the lizard answered as it danced a circle in seeming delight.
The giant then looked at them all and asked, "Any other questions of what can happen to you if you don't behave? Look I'm a busy guy to night labeling and caging all you product, I don't have time for stupid ones. You all got that?"
No one answered. The woman devoured alive before them had taken any thoughts of resistance that might have been forming in their minds. And the thought that a question might annoy him just made them swallow those too.
They were carried back to finish getting their bags. Kira was the second of the JV team to go through the process. She hurried to get her things, she would not annoy that horrible giant.
About the seventh girl he pulled was little Melissia. After she said her last name of Lewis he added a new question, "Any relation to the other Product Lewis?"
"She's my mother." the slender brunette answered honestly about her very busty mother.
He almost looked to savor that answer like a sweet treat, "Hmm, mother daughter product. That combo will attract a lot of bids."
Fear seemed to bring confessions to Melissa's lips as she openly told him, "My sister is also on my squad, she's in there too."
He stroked her little head as he sighed in delight. He wondered openly as he gently lifted her from the tank floor, "What a great idea this was. I wonder what other familiar connections I caught."
He was happy to discover two more lovely mother daughter pairings as well as the Banks twins. He looked like he was almost drooling at his luck. The expression made Kira worry for Penny in his pants. That aroused expression likely meant she was in a hard spot.
Finished he sighed at the remaining bags. He shook his head as he chastised himself, "I really should have gotten the fuglies to get their bags first then the pretty product. Just going to be longer before you can have your own fun now."
He got up and went for the first container. He was openly less gentle with what he considered lesser products. It had to be his personal preferences that made them lesser in his mind as Kira thought a few of the picked out girls looked attractive on one level or another.
When he finished he looked at the two men, "Do you have your bags?"
"Yes sir." they answer, grabbing them and holding them close.
"Then why are there still so bags?" he asked. Then he snickered saying afterward, "Oh right." He undid his pants and pulled Penny out. She shined with sweat and panted hard. Kira wondered if she had been actively wiggling along his giant manhood this whole time. "Grab your bags Product Gates."
Penny didn't like being naked before everyone like this. Especially not the two middle aged men bus drivers. But she gathered her things and the clothes stripped from her. She looked relieved as he lifted the two tubs to place her in with her team.
Finished he sighed then a cruel smile filled his face. "You two lads did such a great job. You deserve a reward." He reached into the Chaperone tub. He took and scattered Vice Principal Mitten's bags. Then pulled her out and dumped her before the two drivers. "There you go fellows, have at her."
The two drivers looked at each other. They were good men as the driver of their bus replied nervously, "We can't do that, that's just wrong."
"Well if you don't want to I know my good friend Bruce will enjoy some time with her instead." The giant happily advised.
Ms. Mitten raced over to the men and fell upon her knees and begged loudly, "Please, take me! Don't let him place me in with that monster!" The two men looked confused. But knowing what time with Bruce meant for her, the usually uptight Vice Principal was desperately undoing the first man's belt.
"Be messy with her lad. If she's not dripping with your leavings when your done she'll regret getting mouthy with me earlier." The giant tauntingly commanded.
Kira watched the former authority figure manage to open the confused driver's pants and pull them down exposing his penis. It wasn't hard, yet Ms. Mitten still moved her mouth towards it. Scooping the tip in with her lips then started working her neck to get him aroused. As she did that her hands reached back and undid her own pants. Pushing them and her panties down and exposing her buttocks to everyone.
The second driver looked up at the giant then to the tight round rump bouncing beside him. Seems he was a little more accepting of his forced duties as he undid his pants and quickly probed his hardened penis towards the Vice Principal's privates. It looked to be a little effort for him to penetrate Ms. Mitten, but once he did he took to work taking her clothes off as he humped at her.
Kira noticed the first driver clearly wasn't as accepting of his duties and despite Ms. Mitten's oral attention wasn't getting as hard as the one taking her from behind. Maybe it was the forced nature of the interaction. Maybe it was the stack groups of ladies and girls watching the performance. Possible he had decided he was gay and didn't like women. His penis was alert but floppy. Rolling and curving over Ms. Mitten's face as she sucked on his testicles or kissed at the base of his manhood. Whatever the reason it didn't stop him from cumming. As he did the woman pointed the tip at her face and just allowed the semen to spatter on all over it. As if knowing that was too easy to be finished with that driver, her tongue twirled at his tip. Then she sucked his manhood back into her mouth.
Kira could tell that man was now more interested in the pretty athletically slim woman with short dark brown hair suckling his penis. Maybe his semen shining on that usually stern but pretty face gave him a rush. It didn't matter, the back driver pulled her to sit back in his lap as his belly jiggled and he gasped for breath. The front driver grabbed two handfuls of Ms. Mitten's hair and just started thrusting his manhood deep into her mouth. She knew she had to take this to avoid a worse fate and just let her neck go loose as her hips attempted to work her womanhood along the back driver's hardened penis.
This hip action on Ms. Mitten's part seemed to feel good for the middle aged out of shape man whose penis was in her womanhood. Kira could see his expression getting more and more delighted. Then he yelled out, "Move back Hank!"
The drive at the Vice Principal's face didn't move so much as fell back to one knee. His new position put Ms. Mitten on all fours and straightened her neck. The front driver took advantage of this position to thrust even harder. Kira could see with each thrust in a bulge form at the top of Ms. Mitten's neck. The former authority figure looked to get horrible discomfort from her throat being penetrated but fought not to react to it as this could mean being eaten alive.
The driver behind Ms. Mitten rose when his partner shifted down and back. His fingers made deep grooves into the skin on the hips of the dark haired woman's fit body. Each hard thrust made her firm buttocks jiggle as his large gut more rolled from the action. Then he pulled out and sprayed his semen on her soft peach shaded bum cheeks. He fell onto his large buttocks and gasped like a fish out of water.
"That's enough of a show for you product." The giant snickered as he lifted the stacked tubs. Leaving Ms. Mitten in with the two drivers while the tub of the girls he didn't find appealing was trapped continuing to experience their authority figure being sexed at both ends before them.
He walked them back into that horrible room with that monster lizard. It looked to be sleeping happily along the large branch in its tank. He placed them on a little cart like someone would have in their kitchen. He placed the three containers across its top then he looked down and advised, "Lets see who should go with who?"
He started loading them into cages. Starting with family connected members. Peyton and her mother. The Banks twins. Vivian and her mother. Amy and Melissa were separated from their mother as he looked to be aiming for only two per cage. Mrs. Lewis was placed in a cage by herself for now.
Family members shorted out, he started pairing up members from the same tub starting with the chaperones. How he sorted them was only in his mind. Mrs. Baker with Miss. Conrad. Teachers, Cash and Pierrot in together. Nurse Marou with Couch Freeman. Then he stopped leaving Couch Crabtree and Ms. Flower waiting scared and confused.
He then started in on the varsity team. Both Emmas that looked so much alike. Latinas Marie and Amanda. Blondes Tabatha and Tanya. Brunette athletic Connie and Sammy. The girly girl brunettes Torrie and Carrie. Cheer captain Jenna and her second Penny. The brunette grade boosters for the varsity team Lori and Mela. The shy awkward Beatrice with team whore Sheila. Then with five trembling before him his attention shifted.
Kira's heart stopped as he started looking over the team and her appraisingly. Then his hand came in after them. First he paired Sasha and Kylie, the only two African Americans on the teams, together. Then the four Asians in the tub with Aoi going with Kyoko and Ayane matched with little Zin.
Then that massive hand came for Kira. Into a cell she was shoved soon to be followed by Jeania Rodrigues, he had paired her with the only other Latina on the JV team. Kira didn't have anything against Jeania, they just never really interacted. Kira would have preferred Mandy or Gabby. They both looked at each other and shrugged and got up to watch him finish shorting their friends and others.
Little blondes Cari and Rosey. Redhead jokers Rachel and Aideen. Brunette mini gossipers Lois and Katie Marie. Swim team members Cyder and Eliza. Bookish Abigail with boy shy Hannah. Then he stopped keeping teams apart.
First he paired Couch Crabtree with varsity team member Carla. Which if rumors at school were correct was a pairing already. The busty brunette Gabby with the similarly shaped Donna from the varsity team. Seeming shorting the last five at random, Mai Shan and Serina of the varsity team and Miss Flower with the last varsity team member to make his cut Carol.
This left poor Heidi alone. He pinched just under her arms and lifted the poor strawberry blonde up to his face level. She was clearly terrified. His other hand rose and stroked across her prominent breasts. "My my what a poor little thing all by yourself." he teased.
She had picked out a frilled black skirt with a white band just up off its helm that hung to just above her knees and a complementing light purple shirt that was a touch lower cut then her usual fair. The near matching socks cover to just below her knees. It was clear she was regretting showing so much skin and shape before this perverted giant. As he just held her there his other hand wrapped fingers around one over her legs as was admiring it intimately.
"Can't have you lonely pretty product. Here, you can come with me as I take photos of the drivers and those fugly bitches." he taunted as he closed their cage doors and walked away.
He came back Heidi was somehow harnessed to a chain he was now wearing. She dangled like a terrified pendant. In some cheap kitchen tongs was Ms. Mitten. Naked, her face, buttocks and groin looked wet. Likely from the two bus drivers being messy as that horrible giant commanded. Kira guessed from the angle she was placed in with Mrs. Lewis. Literally he threw the Vice Principal's bags in the cage with her. He stacked the empty tubs together and slipped them under the cart. He moved the cart to the desk near the giant lizard and then left again.
When he returned he had two tubs. The two very tired looking drivers and the ones he labeled as fugly products. He set them on the cart and then started setting up a couple ring lights. Adjusting their output to his liking. He then put some hardcover books on the desk in a staggered stair like pile. Then he pulled open a drawer. From the other side he pulled out a fancy camera and mini tripod and placed them before the posed books. Then adjusted the lights again. He unhooked Heidi and placed her before the camera. He was speaking and Kira suddenly realized their cage was sound proof.
"I wonder why he made these sound proof?" Jeania asked, making Kira jump. She had practically forgotten about her roommate by force despite her literally standing next to her since that giant closed the door on them.
"Do you think their air tight?" Kira worried.
"No, hear that, there is a fan. Likely in the back. It's circulating the air for us. That horrible gigantic man thought this through." Jeania said in a creepy almost admiring tone.
Kira just had to respond, but all she could think to say was, "I guess he needs to keep his products fresh."
Jeania looked at her and gave a sigh and shrug. "It is the practical thing. Just wish we were not what he intended to sell."
"Same." Kira agreed.
Her attention back to the giant. He was clearly satisfied with his adjustments and test photos of Heidi. He started with the drivers. He clearly hadn't let them redress after their interactions with Ms. Mitten. He dropped the one that had been using the woman's mouth on the desk. Kira could see him saying commands. The man posed as the giant took picks with the camera. Every so often the giant would hand Heidi an object, a pencil or something similarly light small object. Well, small to the giant, heavy for the forced models. Heidi would drag them over to the naked man and the man would have to pose with them showing his new size. Once the giant was done with taking photos with that prop, Heidi would then drag back whatever they were held before.
The giant clearly didn't like dealing with shrunk men nearly as much as tiny women. He looked relieved to be done with them and rewarded them with their clothes back and their own cage across the room.
He pulled out Mrs. Goguen, Carla's mother. The angry faced woman hadn't passed his approval. He said something and it looked like Mrs. Goguen snapped back at him. His mouth moved again and she clearly screamed at him. His hand shot out and the woman flew back and was sprawled across the set up book spines.
He allowed the woman to stand as he dropped her bags before Heidi. He said something to her and the strawberry blonde quickly opened Mrs. Goguen's bags and started pulling out clothes. Clearly looking for something the giant wasn't finding.
Mrs. Goguen stood and staggered a bit. He said something again and she took an angry pose and said something back. Likely yelling it. The giant said something to Heidi. Then like lightning his hand shot out. The angry woman squirmed in his fist. He pulled out scissors from the drawer and cut her clothes off. As he did he shook his head, looking like he was mumbling to himself. He had a slight smile like this interaction was amusing.
Mrs. Goguen naked he stood and walked over towards that lizard's cage. Heidi turned away and covered her head. Kira couldn't manage to do that. She watched as a woman that had been on every trip since Kira made it onto the JV team got dangled over the tank with the beast in it. If it realized it had another treat coming it didn't react.
Even at this distance Kira could see the naked woman land in the soft sand. She looked about then saw what appeared to be a giant sleeping lizard. The giant just closed the lid and stepped back folding his arms. A cruel smile curled his lips.
Then she noticed the lizard's snot twitching more and more. Then like something from a cartoon it bolted upright. Mrs. Goguen ran to the far corner, turning to watch what the monster she was trapped with would do. It bolted over between her and the log. Tilting its head, making it look like it was cruelly smiling at her. She ran along the glass away from it. But it followed, basically trotting along like it was happily playing with her. The woman quickly doubled back. The lizard twirled in a circle before giving chase. Making the giant openly laugh. She reached the corner and looked to be trying to make it to the bushy area at the end of the log.
At this point the lizard stopped chasing. If it had been playing or just following some strange hunting instinct wasn't clear. What was was that it didn't like tiny women near it's lounging branch. It lowered it's head and bolted scary fast. Sliding in the sand when it stopped and raised its head. Pink bolted from it's open mouth. It caught Mrs. Goguen's calf and the woman was now held by her legs in the lizard's mouth. With a up jerk motion and a snap of his jaws Mrs. Goguen was suddenly breast deep into that maw. Kira could see the pain on her face when that harden lizard lip landed on her back. She recovered and was desperately attempting to pull free. The jaw snapped again. A single hand extended out grabbing desperately at the air. Another snap and Kira watched a mound slide down the lizard's throat.
Tears slipped down her cheek as the giant walked back to the desk laughing and shaking his head. He sat and pointed at the lizard tank as he said something to the girls and ladies trapped in the tub on the cart. He finished explaining something then turned in his chair. Grabbing Heidi he pinned her to the top of the desk and began fondling her with one hand. Pushing her top up and her bra down to molest her ample breasts as he clearly waited for something.
Jeania scared Kira again. Not by speaking, Kira was well ready for that. It was the words, the tone even. Like she was turned on by that terrible giant's actions. "He's just so big and powerful. Like unto a god of old."
She looked over at Jeania. Her freckled face had a bewitched expression. Her tongue traced her full lips slowly. Kira felt a little unnerved as the shorter girl was stroking the tip of her own breast. "What is wrong with you?" Kira let slip.
"What, oh. I just, I don't know. Since we arrived here I just can't stop myself. Please don't tell the others, but as hard as I try I just can't stop getting turned on every time he does horrible giant things like that. I mean, I feel so sad Mrs. Goguen is dead. But the fact he just cut her clothes from her while holding her in that one massive hand. How he just dropped her in alive with that dragon like she was just another pet treat. He's like a modern Greek god returned to Earth and we're just weak powerless mortals here to satiate his desires." Jeania explained.
Kira could see the conflict in the eyes of this Latina that somehow had crimson hair. She looked hurt, sad, let those same eyes kept peeking over at the desk. At Heidi being pinned and molested there by the giant. And when they did, a want, a jealousy washed over them. Kira prayed to God to help this poor twisted soul in this cage with her. She also prayed that they all could make it out alive.