Anyone here attending SizeCon?
https://www.sizecon.com/
I usually sell prints, badges and goodies at an Artist Alley table, but this year I'll be doing a size related performance! I'm friggen' nervous and excited all at once!!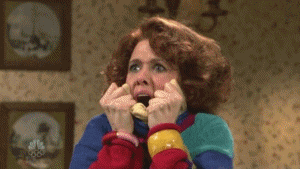 Last year we started a Shrinking Woman Cafe experience with servers roleplaying and 'shrinking' (through some crafty costume changes) while bringing the orders out. This year we're upping the experience and adding a
variety show
element to it and I'm going to be one of the acts!!! Gaahhhhh!!! *blush* Plus, if tickets keep selling at the current pace this event should be free with general admission! Last year we sold separate admission to cover the cost of food/drink.
I don't want to give away too much detail, but my SW act will have humor and dance in it...and it'll be a lil' sexy ehuhuhuhu.
Also, you know I'll be adding my own Cuban flare to it~
*Salsas away into the shadows*