Since the
Evangelion Rebuild
films confirmed that Asuka, like Rei, was a clone series, I had been thinking of a story or picture series involving mini-Asuka and mini-Rei clones running amok from NERV's "Reiquarium". It turns out the author of the following got to the mini-idea first -- at least the Asuka part of it.
The author "Blackunknown" gave me permission to reprint it here if credit is given and a link is made to the source. The following sites are posting the story:
https://www.fanfiction.net/s/14091553/1 ... -Minisukas
https://archiveofourown.org/works/40337 ... /101040957
Neon Genesis Evangelion: Rise of the Minisukas
Author: Blackunknown
Rating: Teen and Up Audiences
Categories: F/M
Tags: Action; Comedy; Humor; Tiny Asukas: they protecc / they attacc / they Got Their Baka's Back; Pen-Pen is a financial wizard; there's a plot I swear; some Extracanonical stuff included
Published: 2022-08-25
Words: 5,849
Summary: What's better than one normal-sized temperamental redhead that calls you an idiot? How about an uncountable number of tiny temperamental redheads that communicate only by calling you an idiot and have tiny lances created by an ancient precursor civilization? What do you mean that's not better?
Chapter 17: Go Go Israfel Rangers!
Notes:
(See the end of the chapter for notes.)
"-And so Second Impact is directly responsible for the shattering of mainland China into multiple successor states, including the Second Taiping Heavenly Kingdom, the Hong Kong Free State, and many others."
A notification from his computer brought Shinji out of his musings.
ALSoryu: Hey Third, I thought this was supposed to be a Math class. Why is this old windbag talking about the geopolitical climate of China after 2I
It took her a while to notice that. Perhaps she had tuned him out from the beginning and only now just noticed.
SIkari: Apparently he does not talk about anything aside from Second Impact. Aida once told me that he thinks the teacher is stuck in some kind of mental loop. I am not sure if that is true or not, but I have not seen evidence to the contrary.
ALSoryu: Jeez Third your typing is way too formal. Anyway, when do we have a teacher that isn't this weirdo?
SIkari: Miss Nachi for Science after lunch.
ALSoryu: Ugh, that's way too long. I wish an Angel would attack and save me from this hell.
Suddenly three phones rang in unison, then an Angel alarm rang out.
"Ha!" Asuka shouted triumphantly. "Score!"
Shinji sighed, it was going to be a long day.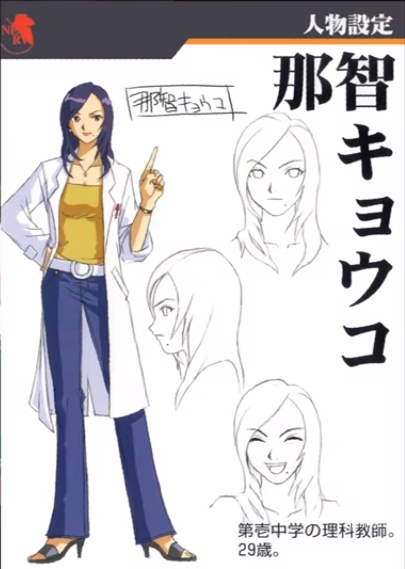 (Kyouko Nachi)
------------------------------------------------------------------------------------
"Alright Shinji, Asuka, Rei. The Angel will be making landfall shortly after you arrive, so we won't know what to expect. Asuka, keep it engaged with melee combat. Rei, stay behind and hit it with ranged fire. Shinji, support Asuka but fall back to help Rei if needed. Got it?" A trio of affirmatives rang out in response, music to Misato's ears. "Alright, let's see what this one has in store for us."
"I suspect it will be unexpected and frustrating," Ritsuko muttered. "Also that the gremlins will show up and be a nuisance."
"Hey! Don't talk about the mini-mes like that! They're me, therefore they're awesome. Except for the one with the eyepatch - she's a little shit."
One could almost
hear
Shiki flipping Asuka the bird. Ritsuko apparently decided to ignore all of this and return to her tablet.
"T-Minus sixty seconds!" Maya called out.
"You heard her! Let's get this show on the road!"
------------------------------------------------------------------------------------
"Shiki," Leader chided.
"What? I didn't start it."
Leader sighed indignantly. "Whatever. Let's worry about Israfel now."
"Is everything going to be okay with the Ayanami-type here?"
"The what type? You mean Wondergirl?" Leader made a mental note to question that later. "We should be fine. Perfect synchronization is required to beat both Israfels."
"I see." The Angel appeared from the waves, approaching the trio of Eva units. "Hey, Leader. There are two Israfel halves, right?"
"Right."
"Meaning the core would be split in two, right?"
"Also correct."
"Then what does that one having a core with five sections mean?"
"….Scheiße."
"Leader,
what does it mean?"
"It means-" Unit-02 charged the Angel and cut it in half. "-hold onto something because this is gonna be a bumpy ride."
------------------------------------------------------------------------------------
Alright guys, let's show the Lilim what teamwork looks like!
Israfel's two bisected halves separated into five different colored blobs that quickly took shape.
Israfel Red!
The red blob morphed into a smaller Israfel that has its 'arms' in a cross shape.
Israfel Blue!
The blue blob morphed into a smaller Israfel with one 'hand' in front of its 'face' and one to its side.
Israfel Black! The black blob morphed into a smaller Israfel that pointed one 'finger' forward.
Israfel Yellow!
The yellow blob morphed into a smaller Israfel that put one 'hand' on its 'chin' and another on the opposite 'hip'.
Israfel Pink!
The pink blob morphed into a small Israfel that crossed both 'arms' above its 'head'.
Together we are THE ISRAFEL RANGERS!
An unexplained explosion erupted behind them.
------------------------------------------------------------------------------------
The NERV command center was dead silent after this spectacle. Not a word was spoken as jaws were collectively on the floor.
Aoba managed to collect his thoughts first. "Oh shit.
"They're a super sentai team."
------------------------------------------------------------------------------------
Shortly after the newly dubbed 'Angel Sentai Skirmish (name pending)'
"Well..." Fuyutsuki gazed upon the trio of pilots, who were mostly fine, save for Shinji, who was holding an ice pack to his head. "I would ask what you did wrong, but I can't exactly blame you for being unprepared for a sudden multiplication of enemy forces."
Asuka groaned. "Fucking bullshit is what it is. What the hell were you two doing?!" Asuka shouted at her teammates.
"I was being suplexed into the ground," Rei stated, her normally dull tone laced with annoyance.
"One of them stole my hammer and kept hitting me over the head with it. Ow."
Leader patted Shinji on the neck reassuringly, while Shiki just glared at Asuka.
"Oh buzz off, you little shit! Where were the rest of the mini-mes in that fight anyway?!"
"Anta Baka?" Leader inquired while displaying one finger. She unfurled another and then gave a so-so gesture. She unfurled all five fingers and gave a look that said 'how do I deal with five enemies suddenly appearing?'
"As much as I hate to agree with the gremlins, I doubt anyone would have planned for the enemy to suddenly split into a team of five coordinated fighters," Doctor Akagi added, not looking up from the stream of data being fed to her tablet. "As it is, the N2 strike has disabled the Angel for about a week, so we have time to prepare. Additionally, initial MAGI reports indicate that damage not done simultaneously would quickly heal. So we need to figure out a way around that."
Fuyutsuki glanced at Misato. "There you have it. I believe you have your work cut out for you, Captain Katsuragi."
Misato pinched the bridge of her nose. "Right. May I ask where the Commander is Sub-Commander?"
"He is…."
------------------------------------------------------------------------------------
Meanwhile in Tokyo-2
Gendo idly scratched at his face mask as the car approached him in the alleyway. This was not something he ever wanted to do again but he didn't trust anyone else to do this for him.
A lanky man who was the definition of skeevy exited the car along with a large man, foreign muscle most likely. "Hey there tall, dark, and mysterious. Heard you was looking for a wild ride." Skeevy spoke with what the man most likely thought was a menacing tone.
"If you have the ride I'm looking for, I've got the green to show you what I mean," Gendo recited the code phrase. He really hated this, but he needed
something
to deal with his-
AHHHHHHHHHHHHHHHHHHHHHHHHHH!
-Problem.
"Righto, my man. Whatchu lookin' for? Round the World? Switcharoo? Mindsploder?"
"All of it."
"A risk taker, I see! One'O each it is."
"You misunderstand. When I say all of it, I mean I will purchase everything you currently have on you right now."
Skeevy looked surprised but quickly collected himself. "My man, I don't think ya understand. That would require quite a lot a green-"
"Then you'll have it." Gendo opened a briefcase filled with banknotes, all sourced from one of his private businesses he
knew
the Old Men were aware of. They had undoubtedly infiltrated the business, meaning all these bills were marked. By releasing them out into the wild like this, the Old Men would be chasing false leads for months—two birds with one stone.
"Daaaaamn. Aight, I gotchu. I can tell this gon be a beautiful relationship."
Gendo couldn't help but agree.
------------------------------------------------------------------------------------
"…..attending to matters elsewhere. I will be in charge for the time being. Now I have a large amount of paperwork to do - you are all dismissed. Keep me apprised of any developments." He moved to exit but stopped to look at Leader and Shiki. "Oh, Leader and Shiki, was it? I would appreciate it if you would keep us in the loop about
your
plans as well." He left without waiting for a response.
"Alright," Misato ground out. "You kids head back home and get some rest. I need to get some coffee in me."
Shinji groaned, Asuka muttered something potentially unflattering, and Rei nodded silently, leaving the Captain to her thoughts as she went to her office.
"Psst, Katsuragi. Over here."
"Gyah!" Misato drew her sidearm with frightening swiftness, aiming it at the intruder. She lowered it after seeing who it was. "Oh, Kaji." There he was, Ryoji Kaji, her ex. Currently hiding in a potted plant. "What are you doing? And where did that potted plant come from?"
"Good questions, but instead of answering them, how about I give you an answer for your Angel problem?"
Misato's eyes narrowed suspiciously. "What's the catch?"
"I need two favors."
"What are they?" Misato had a bad feeling about this.
"One, I need you to house Asuka. She's getting suspicious that I might not actually live in the apartment I put her up in and I don't feel comfortable having to ward off her advances if she finds out where I actually live."
Misato winced. "Yeah, that's reasonable. The second?"
"Do you have a way to ward off those Minisukas?"
"No."
"Crap. Then, dinner?"
Misato eyed her pistol before sighing. "Fine, but you're buying. And it better be a decent place!"
"Deal. Now, here's my plan….."
------------------------------------------------------------------------------------
The next day
"I hope Asuka is okay," Shinji exposited aloud. "She didn't come to school today."
"Anta Baka?" Leader questioned, wondering why Shinji chose now of all times to say that.
"It's just that I made this lunch for her so she would feel better, and now she won't get to eat it…" Shinji muttered. He blinked as he thought he saw a spider-shaped cloud in the sky, but it proved to once again be a cloudless summer day.
"Baka," Shiki growled from her position in Shinji's pocket.
"Shiki, please don't antagonize Asuka. I don't want either of you to get hurt."
He blinked as he recognized a moving truck in front of his apartment complex. "Who's moving in? Is that girl Mister Aoba was talking about getting here early?" Shinji liked Mister Aoba - they discussed music whenever they met each other around the complex. He would have to introduce himself to the girl later.
As he approached the apartment, he noticed the movers were entering Misato's apartment. They made no notice of him as he entered and found stacks of boxes. "Did Misato bring some stuff out of storage?"
He opened one box and found a bunch of dresses. "Hey!" a familiar voice shouted out. "Get the hell away from my stuff before I get my crowbar!"
Shinji turned to see Asuka standing before him. "Asuka!? What are you doing here?"
"You're being-"
"Oh, here's your lunch. by the way." Shinji offered her the lunch box. "It's schnitzel."
Her face brightened. "Oh, thanks, Third! I'm starving!" She greedily grabbed the box, making to open it before stopping herself. "Hey! Don't distract me with delicious food!"
"You think my food is delicious?" Shinji asked with a hopeful expression.
Asuka's face quickly matched her hair. "S-Shut up! You're being replaced! Misato is trading in for the newer model. Being as magnanimous as I am, I already packed your stuff."
Asuka winced when Shinji's hopeful expression shattered into something that resembled a kicked puppy. "O-oh. Of course. I guess I'll go then….." For once in her life, Asuka felt a
little
bad about being so abrasive. The glare Leader and Shiki gave her didn't help.
"What's going on here?"
""Gyah!"" Shinji and Asuka nearly jumped a foot in the air at Misato's sudden and inexplicable appearance, almost throwing Leader and Shiki off Shinji's shoulders.
"Gott
Misato, don't do that! You nearly gave me a heart attack! Anyway, I was informing Third that you were kicking him out and I'm moving in."
Misato stared at Asuka in plain confusion. "But I'm not. You're living here with the both of us now."
"What!? You… you expect me to live under the same roof as a pervert like him?"
"I'm not a pervert!" Shinji shouted indignantly. He, however, was ignored.
"Tough, because we need you together for training!"
""Training?"" Shinji and Asuka questioned in unison, earning a smile from Misato.
"Glad to see you're already on the same page! That's right, sync training! We're going to need to be perfectly synchronized to defeat the Angel. Now, we just need to wait for Rei to get here."
"I am already here."
"""Gyah!""" Shinji, Asuka, and Misato nearly jumped a foot into the air at Rei's sudden and inexplicable appearance. This time, however, Leader and Shiki had hunkered down in Shinji's shirt pocket, ensuring their footing.
"Gott,
First, don't…. I suddenly have deja vu."
Misato quickly recovered. "Rei, glad you got here so quickly. Now we can get down to the nitty-gritty of this training. Now pay attention! You guys are going to be training to be perfectly in sync. That means dancing together, eating together, breathing together, sleeping together but not in that way Asuka shut your mouth I'm not done yet." Asuka clamped her mouth shut with a scowl. "Basically, anything that doesn't involve the more private uses of a bathroom you'll be doing together. Any questions? Yes, Asuka?"
"I hate this plan."
"Not a question. Also too bad, you're doing it."
Asuka muttered some choice German words that would make a sailor blush.
"Yes, Shinji?"
"Yeah, uh, there are three of us and five…. sub-Angels? What about the other two?"
"Anta Baka," Leader stated proudly, Shiki giving her a blank stare.
"There you go, Shinji. The Minisukas have us covered. Now enough talk, get into these leotards, and start dancing!"
"I
really
hate this plan," Asuka growled as she attempted to incinerate the leotard with her mind.
------------------------------------------------------------------------------------
Later
The obnoxiously loud sound of the buzzer rang out once more.
"Argggghhhh! Come on, Third! It's pivot step step pivot spin step jump pivot step, not pivot step step pivot spin step jump pivot jump! How hard is it to memorize that?! Even First is managing that!"
"I like to believe my memory is like an elephant's - they never forget. They also never forgive," Rei provided ominously.
"See! Be more like an elephant, Third! Wait, that sounded weird…"
Shinji panted as he tried to catch his breath, managing to give Asuka an indignant glare.
"Alright, that's enough," Misato called out as she glanced at the clock. "It's getting late so we should wrap up for the day. You three did well for your first session. If you keep this up, you'll be kicking that Angel's ass in no time."
"I do not believe the Angel possesses a gluteus, Captain Katsuragi."
"Figure of speech, First. Now get started on dinner, Third."
"Nice try, Asuka, but all three of you will be making dinner together. Remember,
everything together."
Asuka groaned, hoping Misato would've forgotten that.
"I would like to state that I do not eat meat, so I would like a portion of the food to be free of such."
"Alright, Ayanami, we can do that. Come on, Asuka, cooking isn't that hard once you get the hang of it," Shinji tried reassuring Asuka, somewhat(?) successfully.
"Oh, you think I can't do it, Third?" Asuka retorted with a glare.
"That's not what I-" He tried to defuse but the bomb known as Asuka Langley Soryu was already detonating.
"Well, I'll show you! I'll be the best damn cook ever! So good that whatever I make will knock your
gott
damn socks off!"
"Oh, well, uh, I'm looking forward to it?"
"You damn well better!" Asuka huffed as she made her way to the kitchen, leaving behind a grinning Misato and a confused Rei.
"But none of us are wearing socks?" Rei's confusion remained as she went to go assist her fellow pilots.
Watching from atop the refrigerator, Leader held out her hand to Shiki with a smug grin. Shiki grumbled as she slapped a wad of tiny yen bills into Leader's outstretched hand.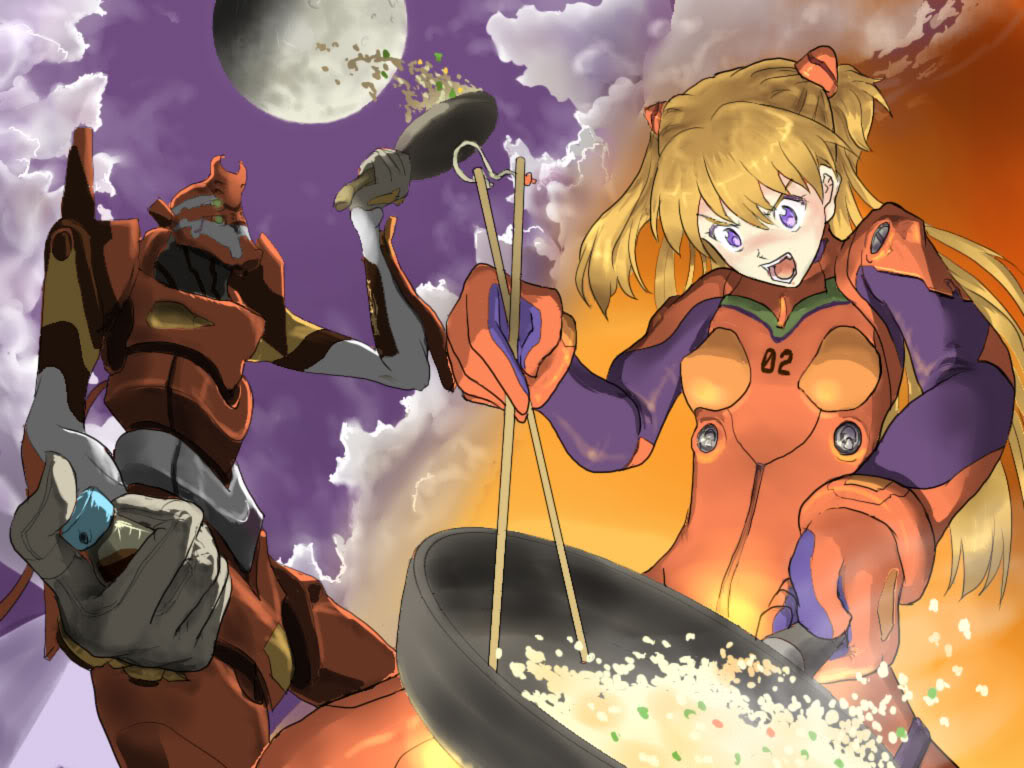 ("Fry Me to the Moon") (Art by puuakachan)
------------------------------------------------------------------------------------
Hikari stared at Touji and Kensuke, and they stared back. The three Minisukas on Hikari's shoulders stared at the two as well before dismissing them as unimportant and returning to whatever they were discussing, making Touji let out a sigh of release.
"So, Class Rep, what are you doing here?" Aida spoke up, wanting to break the awkward atmosphere.
"Delivering Asuka her missed work since she hasn't been at school for a few days. What are you two doing here?"
"Same, but with Ikari. So the Red Devil lives here, too." Touji suppressed a shudder. "Geez, Ikari must have it rough."
"Perhaps all the pilots live here?" Kensuke provided. "Keeping them all in one place makes them easier to protect." Touji and Hikari nodded in understanding, Kensuke's reasoning seeming plausible. It's when they all got on the elevator and arrived at the same floor that they guessed that all the pilot rooms were on the same floor. However, when they all stopped in front of the same door, they started getting suspicious.
"Ya don't think….." Touji fought back a feeling of dread in the pit of his stomach.
"Surely they're not….." Hikari felt a surge of unease as she hoped what she thought was going on wasn't actually going on.
"Of course…." Kensuke, however, accepted that whatever was happening was going to be nonsensical or unbelievable. He knocked on the door, looking to get this over with.
What he was not expecting was the trio of pilots to open the door and answer them in unison. """Suzuhara/Monkey, Aida/Glasses, Hikari/Class Rep/Horaki what are you doing here?""" Well,
almost
in unison. Kensuke kept a grip on Touji's shoulder to prevent him from running away - he wasn't going to suffer whatever this was alone.
"You…" Hikari's face was tomato red and her eyes were wide. "You three are living in sin!"
""It's not like that!""
"Which sin?" Rei would once again be left unanswered.
------------------------------------------------------------------------------------
"So lemme get this straight… yer gonna defeat a giant monster through synchronized dancing?"
"Yep." Misato sipped her beer as she eyed the practicing pilots.
"Oh. That makes sense."
"Yeah, I thought it was going to be something weird." Kensuke was browsing through the dance choreography with interest.
"Suzuhara, Aida, I feel you two have a skewed definition of what is weird or not." Hikari had semi-willingly become Pen-Pen's chair as he watched the dance routine, idly petting the penguin's crest. She was unwilling to question why the penguin was drinking beer.
"Whaddaya mean, Class Rep?" Touji would not receive an answer as a loud buzzer once again rang out through the apartment, shortly followed by a loud German swear.
"Come on, Idiot! Pivot step step jump pivot step! Get it right!"
"I'm pretty sure it was pivot step step jump step pivot, though?"
"I believe Pilot Ikari is right."
"They're right. It's pivot step, not step pivot," Kensuke provided as he pointed it out in the choreography.
Asuka, frustrated from days of this nonsense, took exception to that. "Oh, commentary from the peanut gallery now?!"
"Just trying to help," Kensuke stated blankly.
"Help?! I'm a
gott
damn Evangelion Pilot! I've been training for shit like this for years! I don't need
your help!
I'd like to see you do this and succeed!"
Kensuke's eyes hardened at that. "Is that a challenge?"
"Try me, Glasses. I dare you."
"Alright, Touji?"
"Right behind ya, Ken." Both of them got up and approached the dance machines. Asuka scoffed and backed away, glaring at the duo. Shinji and Rei followed suit.
"Alright, queue the music!" In one swift motion, Kensuke and Touji ripped off their school clothes, revealing flashy white clothes reminiscent of male idol outfits underneath. What followed was a four-minute-long dance routine to a song about Cinderella - Kensuke and Touji being completely in sync throughout it.
"Well..." Touji wiped the sweat off his brow. "How was dat, Red Devil?"
Asuka was speechless, as was everyone else in the room. Everyone from Misato to the Minisukas was staring at them, mouths agape in shock. After what seemed like an eternity of tense silence, Asuka wordlessly stood up and left the apartment. A few minutes after, Shinji collected his jaw and hurried after her, Leader and Shiki scrambling after him.
A voice spoke after a moment of silence. "Well... I thought you guys did great!" the eyepatched man in the kitchen trash can complimented. Everyone yelped in surprise at the sudden appearance of the intruder, except for Rei, who assumed hostility and assaulted him with a kitchen chair.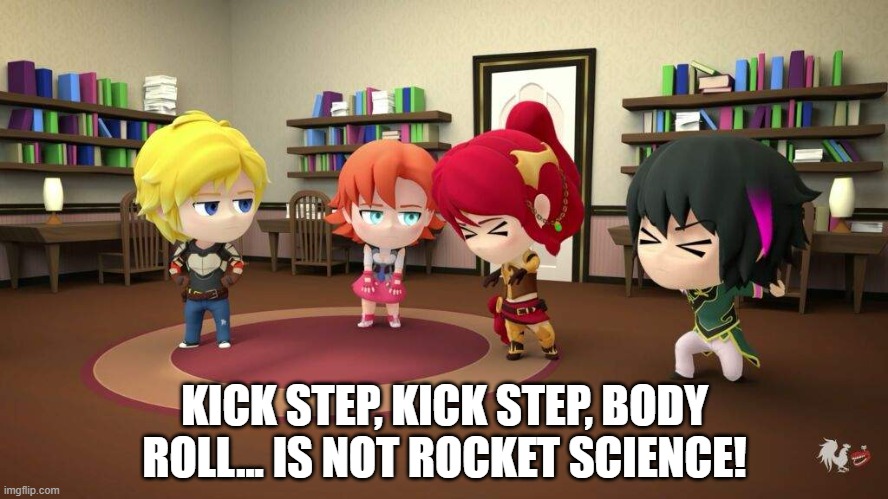 (RWBY Chibi)
------------------------------------------------------------------------------------
Tracking down the irate redhead was not difficult - Shinji only needed to follow the trail of destruction and offended people to an average convenience store, where she had nestled herself in a corner of the drink section.
"Hey Asuka, are you alright?" Shinji inquired, not entirely sure how to deal with this situation.
"Do I look alright, Third?!" she snapped at him, before letting out a frustrated sigh. "Not only was I screwing up constantly for the past few hours, I got shown up by those two Stooges."
"I still can't believe that happened," he muttered in disbelief.
"You might as well replace me with the mini-mes. They're already dealing with two sub-Angels, why not a third?"
He gulped and prepared to take the plunge into unknown waters. He sat down next to her and looked her in the eyes. She returned his stare with a flat look.
"Asuka, you're an expert Eva pilot, right?" he tried.
"You're damn right I am. I've trained for around ten years to be one."
"It, uh, shows. I only have a few months of training but even I can tell piloting an Eva is second nature to you-"
"Hold up," she interrupted him. "What do you mean
'a few months of training'?
What, did they get you out of basic right before the Third Angel attacked?" She looked at him with incredulity.
"No."
"Well what-"
"I arrived in the middle of the Third Angel's attack and my father told me to pilot or he'd have Ayanami, who was severely injured, do it."
She looked at him with an expression she couldn't place. He really hoped he didn't anger her further.
"So let me get this straight - your father forced you to pilot a giant robot against an alien monster with no training by basically holding the First's life hostage?"
"Yes?" Oh no, she was getting that angry tone in her voice.
"Gott
and I thought my dad was terrible." He may not be good at this whole social thing yet, but even he could see the landmine she just dropped. He was not going to be the one to step on it. "So, you managed to beat the Angel without any training?"
"No, I tripped and fell. Then the Angel beat me up, then the Minisukas appeared and killed it."
She stared at him blankly before erupting into a fit of giggles. "Wow Third, you suck." Despite the harsh words he could tell there wasn't any bite behind them. He giggled along with her. "So were you trying to make a point?" Oh, right.
"Well, I was going to say you're being too hard on yourself and I wanted to ask you for some help with all the Eva stuff but I think I kinda ruined the mood." He looked away, blushing.
"Yeah, you kinda did." She slapped him on the shoulder. "But you're kinda right, even if you did go about it in the stupidest way. This whole training thing has been grinding on my nerves, and your stupidity did help me with that so I agree."
He turned back to her, confused. "Agree?"
"Yeah, I'll help you with your Eva training, Idiot. If NERV is too incompetent to give you timely training, it seems like I have to take it upon myself to guide you." She stood up and puffed out her chest. "With my help, you'll be the second-best Eva pilot the world has ever seen!"
"Oh, thanks!" He stood up as well, dusting himself off. "We should head back then."
"In a bit. I'm parched and it looks like they have the soda I like here. Spot me, Idiot?"
"Uh, I don't exactly have any pockets on this thing…" He gestured to his leotard. "And I didn't exactly expect to be buying anything."
"Fair," she grumbled.
"Baka?" Leader and Shiki approached them, dragging a bag filled with drinks.
"Thanks, Leader, Shiki!" He grabbed the bag from them and held it open for Asuka to take her pick. She grabbed a strawberry soda while staring at Leader and Shiki as they climbed back on his shoulders.
"Where… how did they pay for it?" Unfortunately, Asuka's question would remain unanswered.
------------------------------------------------------------------------------------
The four of them returned to the apartment to find that their classmates had left and most of the kitchen furniture was broken.
"Oh hey," a frazzled Misato greeted nonchalantly. "Get all of that out of your system?"
"Yeah…." Asuka stared at the remnants of the kitchen table. "What happened here?"
"Self-defense," Rei instantly provided. "You cannot prove otherwise."
"What Rei means to say is….. uh… you guys ready to get back to training?" Misato tried to redirect the topic.
Shinji, Asuka, Leader, and Shiki glanced at each other and decided it was best to let sleeping dogs lay. ""Sure,"" Asuka and Shinji provided in unison, surprising each other.
"Oh, Captain Katsuragi. I must inform you that I am required for a medical appointment tomorrow and I will be unable to be a part of the last portion of our training."
"Yeah, I heard from Rits. I'm also stuck at base tomorrow as well. Will you two be okay by yourselves tomorrow?"
Asuka glanced at Shinji and huffed. "We'll be fine, right, Idiot?"
"Of course, Asuka."
Misato had a knowing smirk but surprisingly didn't say anything else. "Alright, then let's continue training!"
------------------------------------------------------------------------------------
The next evening
"Do we really have to hide away like this?" Shiki asked Leader as they watched Shinji and Asuka finish up for the day.
"Trust me, the less outside interference the better. We've given them the tools, they just need to use them."
"What if they don't?"
"We'll burn that bridge when we come to it."
"Don't you mean 'cross'?"
"I know what I said."
"I suddenly have a bad feeling about this."
------------------------------------------------------------------------------------
"Alright, listen here, Idiot. I'm using this opportunity to get some sleep
alone."
"Okay?" Shinji wasn't sure why she was announcing it like this but he was making sure to listen.
Asuka entered Misato's room and stood at the door. "This-" She pointed to the sliding door. "-is the impenetrable Wall of Jericho! No entry!" She slammed the door shut. He blinked, where had he heard of that before? He sat on the futon for a few moments wracking his brain for the information he was seeking. Suddenly, it hit him like a runaway truck designed to send him to a parallel world. He got up and approached the door.
"Asuka?" he knocked gently, hoping he wouldn't anger her by interrupting her sleep.
"What is it, Shinji?" Did she just use his name instead of calling him Idiot or Third? She must be really tired.
"You said the Walls of Jericho, right?"
"Mmmhmmm." Why did her tone sound almost hopeful?
"Uh, didn't they fall?"
"Yes."
"Then, why would you say they're impenetrable?"
Suddenly, he heard the motion on the other side of the door (and what sounded like a distant groan along with a hand meeting a face) as it opened to reveal Asuka, giving him the flattest stare he had ever seen. "Third. What do you think I was talking about when I call the door the Walls of Jericho?"
"I, uh, was trying to figure that out by asking you?"
Asuka pinched the bridge of her nose and let out a deep, frustrated sigh.
"Idiot.
Alright, I've changed my mind. I'm sleeping out here again."
He wanted to question why but he decided against it. He watched her lay back down on her futon, muttering something about 'density' and 'baby steps'. He soon lay back down on his own futon and began to drift off to sleep.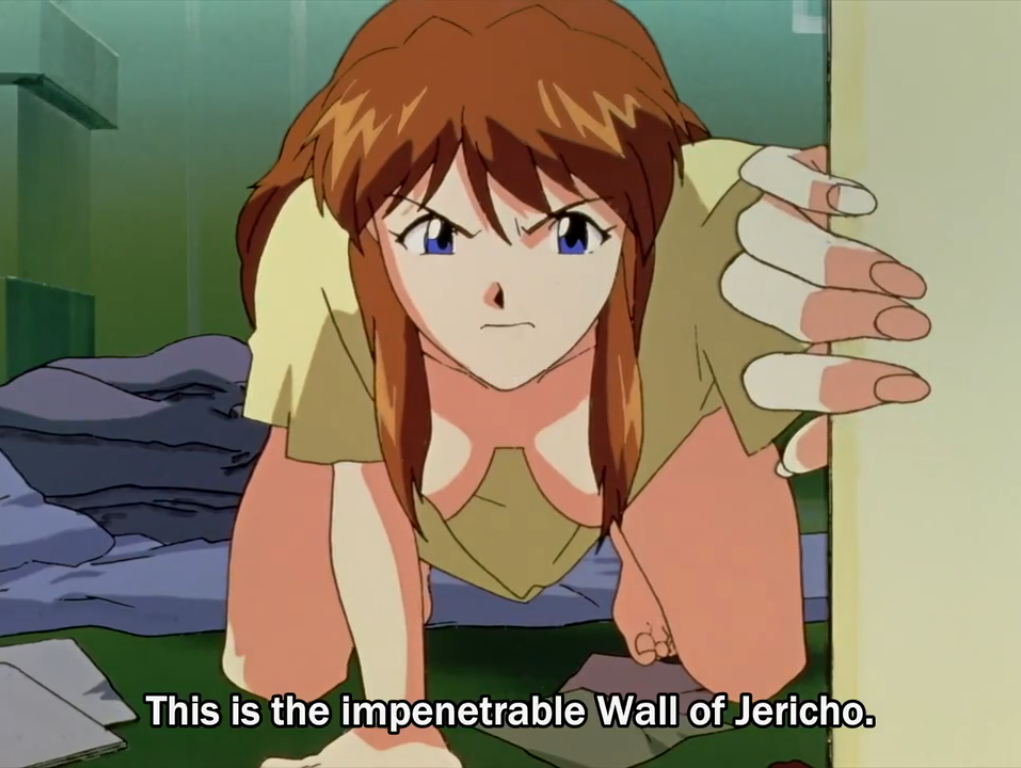 ------------------------------------------------------------------------------------
He awoke when he felt a pressure on his chest. He opened his eyes to see a mop of red hair engulfing his vision. It seemed that at some point Asuka had rotated to a horizontal position and had decided to commandeer his chest as her new pillow, her face angled away from him.
"Huh...." he whispered, hoping he wouldn't wake her. His newly awakened mind came to two conclusions. First, she was asleep. Second, this was likely a dream, therefore not real. His tired brain settled for an action that would most likely get him a pummeling if she was awake and this was real. He lightly patted her on the head. "Good night, Asuka, sweet dreams." He returned to unconsciousness swiftly soon after.
Unknown to him, Asuka had awoken at his first whisper, wondering how she got into this position. Now she had a blush that could be seen from orbit and a mental civil war within her head that would upheave her mind's status quo forever. She attempted to get back to sleep, trying to ignore how comfortable her new 'pillow' was.
"Idiot Shinji." She did not fall asleep for a long while.
------------------------------------------------------------------------------------
Leader stared at the scene before her, evaluating and assessing it like a predator to prey.
"So," Shiki began. "Did it work?"
"It's not the best-case scenario, but it's not the worst either. It's kinda in the middle, but leaning towards the better end. We can work with this."
"Fantastic. Now can we get out of the air vents? I don't like the way that cockroach is looking at me."
"Fine."
------------------------------------------------------------------------------------
The Day of the Battle Against the Angel
Asuka got into her entry plug with practiced finesse, getting ready to beat this Angel once and for all. On the outside, Asuka was the picture of calm confidence. Inside, she was screaming.
'Oh Gott, what was that?'
she thought as she went through her pre-activation checklist.
'My signals went completely over his head, but I ended up accidentally using him as a pillow and he pats my head and wishes me sweet dreams?! Not to mention he is the best Gottdamn pillow I've ever used to the point of not even having a nightmare?!'
She was glad she woke up first and managed to put some distance between them before Misato returned or Shinji woke up.
"Asuka?" Lieutenant Ibuki called out. "Your heart rate is elevated. Are you alright?"
"Just pumped to give the Angel the thrashing it deserves." And not thinking about how despite barely knowing the Idiot Shinji, he's making her feel things she's only ever felt about Kaji.
'It's a fluke, just an effect of the sync training, you'll be back to normal soon Soryu, just give the Angel what for and it'll be over soon.'
Yup, if she kept telling herself that enough, it'll come true.
"Well, you'll get your chance soon - deploying in t-minus ten minutes. Hope you're ready to dance like your life depends on it," Misato informed her.
Oh boy was she. She needed a distraction and killing an Angel was the perfect distraction.
"I was born ready! How about First and the Idiot?"
"I am ready, Pilot Soryu," the First stated, her ruby red eyes boring a hole into her through the visual feed.
"Ready, Asuka!" Idiot Shinji shouted, and she could see the mini-mes in the background fiddling with something. It occurred to her that she now probably knew the reason the mini-mes hung around him. But she wouldn't fall for his idiotic charms so easily!
"Then let's kick this Angel's ass to next week!" First began to open her mouth. "Figure of speech, First." She closed her mouth.
"Well said, Asuka. Eva Units, Launch!"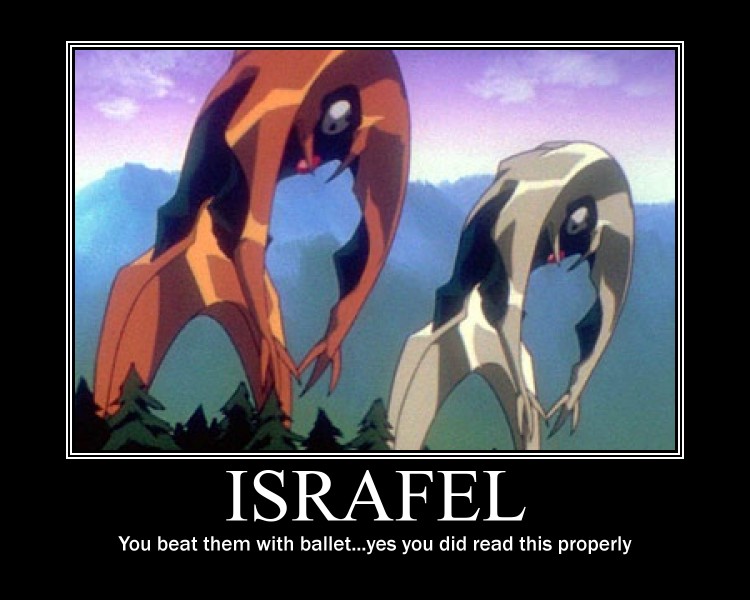 ------------------------------------------------------------------------------------
After Angel Sentai Skirmish 2 (name pending)
They did it. Through the three Evas performing a perfectly executed synchronized dance, and the creative use of two ballistas, the pentuple Angel was felled. Humanity was victorious once more, but not all were celebrating.
"What do you mean they're not working?"
"Like I said, Fuyutsuki, the drugs aren't working." Gendo grimaced. "It appears that Adam is nullifying the effect of the drugs."
AHHHHHHHHHHHHHHHHHHH!
"I see. What are you going to do next?"
"More alcohol. Otherwise, I will have to endure the screaming."
"And the aftermath of the Seventh? What shall we do about the Second Child's living arrangements?"
"Keep them as is. Having two pilots in the same building allows for better protection, and will act as a lure to anyone foolish enough to target them. Also, apply Captain Katsuragi for a promotion. While unorthodox, her plans have proven useful repeatedly. Giving her a promotion will endear her towards us."
"Understood. Oh, and I may have found an interesting opportunity to get us a pilot for Unit-05." Fuyutsuki offered a folder to the Commander, who took it with interest.
"Already?" He flipped through the files and frowned. "I thought the S-type series was discontinued and decommissioned?"
"It was, look at the last page."
Gendo did so. One of his eyebrows raised in a rare show of surprise.
"A very fortuitous coincidence. No foul play was involved?"
"None. This was pure happenstance."
"Hmmm. Make preparations, but only observe for now. Unit-05 is far from complete and we need as many hidden aces as we can find."
"Understood. I'll begin immediately."
"One more thing. I recall Yui was friends with her. Send her daughter a condolence gift, flowers, or a fruit basket. Anonymous, of course."
"Of course, unless there's anything else?" Gendo made no motion to say anything else. "Then I shall leave you be." Fuyutsuki left, leaving the Commander with nothing but his thoughts and a bottle of whiskey.
Notes:
"And so fall the Israfel Rangers. I'm a bit iffy about this chapter, I could've shown more but I didn't want things to drag on or retread old ground. I also feel the romantic and waffy bits aren't to snuff, but it shouldn't be hard to iron out the kinks as things go on. Also, Miss Nachi is Kyouko Nachi, a character from
Detective Evangelion
(
Evangelion Detective
? I'm not entirely sure of the correct order) where she is Tokyo-3 Junior High's Science Teacher, and a murder victim. And to answer the burning question on everyone's mind, yes Shinji managed to get the hammer back. Anyway, hope you all enjoyed, leave a review if you want, and have a pleasant day."
Note from me:
A schnitzel is a thin slice of meat. The meat is usually thinned by pounding with a meat tenderizer. Most commonly, the meat is breaded before frying. Breaded schnitzel is popular in many countries and is made using veal, pork, chicken, mutton, beef, or turkey. (Wikipedia)